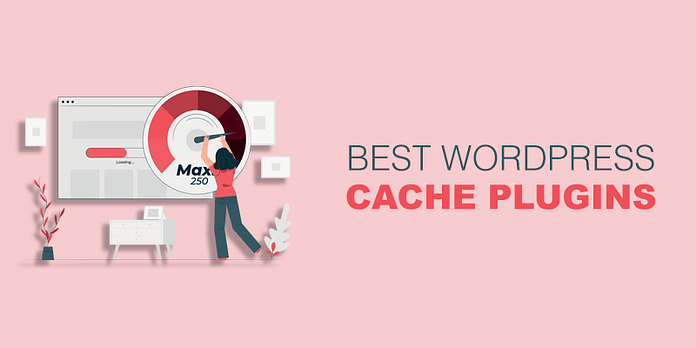 Are you searching for cache WordPress plugins to improve the speed of your website? Then yes this is the article where you can some best cache plugins that are available. The faster your web pages loads, you will get the better user experience.
What is a Cache Plugin?
In simple words, when a visitor visits your website, all the elements are loaded. So, there will be a number of requests that will be sent to the server. After that the final result is sent from the server to the user's browser. Each of these requests will increase the loading time of your page. For instance, you might have a header, image, menu, and a blog. The server will take time some time to deliver the complete website.
So, here the caching plugins play an important role. The caching plugin instructs the server to store some files to disk that depends on the configuration. Therefore, it can remember and duplicate the same content that was served in the past. This will help to load your web pages faster, directly from cache. Therefore the caching reduces the time that is required to generate the page views.
Why do you need a Cache WordPress Plugins?
A caching plugin generates static HTML pages of your website and serve them next time a request is made instead of re-loading all of the PHP scripts from WordPress.
When a user tries to access your website, the cache plugin serves up the lighter HTML page instead of processing the heavier WordPress PHP scripts. This helps the cache plugin to improve your page loading time faster.
Here are some best cache WordPress plugins that ensures you to load your website faster. Let's get started with the list:

WP Super Cache is one of the best cache WordPress plugins that generates static HTML files from your dynamic WordPress blog. After that your web server will serve that HTML file instead of WordPress PHP scripts which is heavier and more expensive. This plugin offers three options that improves the loading time and performance of your website. The options are using a mod-rewrite, serve static page using PHP and legacy caching.
And you can use any types of caching as you like from the advanced settings area. If you are not comfortable with the editing PHP files then you can use simple mode which is easy to set up and is very fast.
Major Features:
CDN Supported
Rest API Endpoint to Access Settings
Scheduler to Clear Cached Pages at Certain Interval
Notification Emails for Garbage Collection Progress
Page Compression and Dynamic Caching Option
---

WP Fastest Cache is an easy to use free WordPress cache plugin that comes with all the options for clearing cache and boosting the speed of your website. This plugin uses mod rewrite for creating static HTML files from the dynamic WordPress blogs to decrease the loading time of your website that will improve the rankings. The plugin offers cache timeout features that deletes all the cache file and deliver a fast browsing experience to your visitors.
You can set up this plugin easily and there is no need to modify the .htacces file. As, it will be modified automatically. It generates a static html file and saves.
Major Features:
Mod_Rewrite which is the fastest method is used in this plugin
All cache files are deleted when a post or page is published
Admin can delete minified css and js files from the options page
Block cache for specific page or post with Short Code
Enable/Disable cache option for logged-in users
---

W3 Total cache is a free cache WordPress plugin that is perfect for web performance optimization. This plugin improves the user experience of your site by reducing download time via features like content delivery network (CDN) integration, increasing website performance, and database support. The plugin also improves the web server performance and sustains high traffic periods.
This plugin is compatible with the shared hosting and includes a secure socket layer support. It is well optimized plugin for progressive render – page starts rendering quickly and can be interacted with more quickly.
Major Features:
Accelerated Mobile Pages (AMP) support
Transparent content delivery network
Non-blocking JavaScript Embedded
Minification of Posts, Pages, and feeds
Various security features and Caching of Database
---

Comet Cache is a flexible and modern WordPress plugin that is very simple to setup and use. This plugin uses the snapshots to deliver a faster reading experience to almost all the visitors. It includes a detailed explanation for each setting which helps novice users to configure the plugin for their website easily.
There are many advanced features available in this plugin. So, if you choose free version then you will only have basic features available. The latest version of Comet Cache works perfectly well with the latest version of WordPress.
Major Features:
Simple and well-documented configuration
URI exclusions pattern
HTTP referrer exclusion pattern
RSS, RDF, and Atom Feed caching
Apache Optimizations to enable GZIP Compression
---

Hyper Cache is a cache WordPress plugin to get the maximum speed for your WordPress blog. You can use this plugin in low resources hosting and also on high end servers too. This plugin is an excellent solution for you to test out on a high-end server or a low resource hosting option. It runs solely on PHP, so complex configurations are not required. After that you can run the plugin on any type of WordPress blog perfectly.
This plugin is an open-source project where you don't have to worry about upgrades in the future. Also you can support the developer with a donation.
Major Features:
Mobile theme switch option
bbPress specific integration
Able to serve expired pages to bots
Comments and mobile aware
Controls over cache cleaning in blog events
---

WP Rocket is the best caching solution for WordPress which is premium cache WordPress plugin. This plugin works perfectly well with all types of websites either its large or small. It will help to accelerate the loading time of your website and can be customized easily by non-technical users were the coding skills is not required.
You will get a great support form the support to team to speed up your website. This is a feature-rich plugin that offers browser caching, GZIP compression, cache preloading, and the options for CSS, HTML, and JavaScript minification and concatenation. It is pre-equipped with "Images on Request" facility which loads media content (images) automatically as the visitor scrolls down the page.
Major Features:
Simple, fast, and intuitive setup
Integrates seamlessly with CloudFlare
Page caching is immediately activated
JavaScript files are deferred till the page is rendered
Google Fonts Optimization minimizes HTTP requests
---
Wrapping Up

There are many cache plugins in the WordPress directory so I've carefully handpicked and listed down the best cache WordPress plugins. These are the plugins that will help you to refine the web performance of your website.

If you have any queries or suggestions then feel free to comment us below.
Also Checkout: