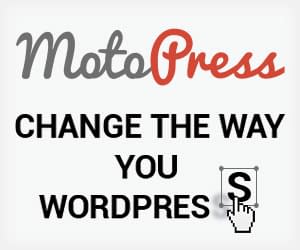 WordPress to many is not a Pandora's box. With its ever rising popularity, it hits as one of the most used platforms in the web industry. Today we are focusing every nifty detail about the WordPress from its origination to how it is setup and security.
If you are a noob, then this guide will make you talk. You will learn everything here. To make it easy for you, I have categorized the content in various sections. Feel free to navigate along the sections.
What is WordPress?
Which WordPress version to choose? – WordPress.com vs. WordPress.org
How to pick the right domain name?
How to choose the best WordPress hosting?
How to install WordPress?
Where to find free WordPress themes?
Where to find premium WordPress themes?
Theme marketplaces
Theme companies
How to install a theme?
How to add widgets to the theme?
Where to find free WordPress plugins?
Where to find premium WordPress plugins?
How to install a plugin?
What are must –have plugins for a WordPress site?
General Settings
Permalinks
How to use Post Editor?
Best WordPress Security Plugins
Actionable WordPress Security tips wordpress
Free Premium WordPress SEO Plugins
Free SEO tools
---
Introduction
What is WordPress?
In simple terms, WordPress is free and open-source software to create a website. Statistically, WordPress is the most popular content management system in use today, which covers 58% of all cms usage and 25% of all websites on the internet.
A number of famous websites use WordPress including news and magazine websites, celebrity and brand websites etc. TechCrunch and Time magazine both are on WordPress platform. You can find out more websites using WordPress in the WordPress showcase.
Getting back to the history of WordPress, it was just a blogging platform initially developed while seeking for an elegant personal publishing system. It was first introduced in May 2003 as a fork of b2 or cafelog by Matt Mullenweg and Mike Little. So, WordPress is the official successor of b2 or cafelog.
The same blogging tool based on PHP and MySQL soon developed as a complete CMS platform and grew popular among everyone looking for a simple way to spread information through websites. It is widely used worldwide to power a large variety of website types ranging from a personal blog, business, and portfolio to eCommerce websites.
This is free and open source software licensed under GNU GPLv2 which anyone can download free from WordPress.org and use freely. WordPress is indeed a great community, which provides anybody an easy access to use the software, modify or create something out of it. The community offers forums, email lists for discussing the issues, and WordCamp is organized in different parts of the word every year in order to share information and updates among the WordPress people.
There are thousands of WordPress themes/ templates in the web to help you design a website instantly. Similarly, you can find a large volume of WordPress plugins which are used for adding functionality to your WordPress websites. In addition, WordPress give widget options to add more content or beautify your website.
WordPress offers mainly two platforms as WordPress.org and WordPress.com with some distinct features and cases of use. To choose any one from the two versions available, the comparison given below will help you.
Which WordPress version to choose? (WordPress.com vs. WordPress.org)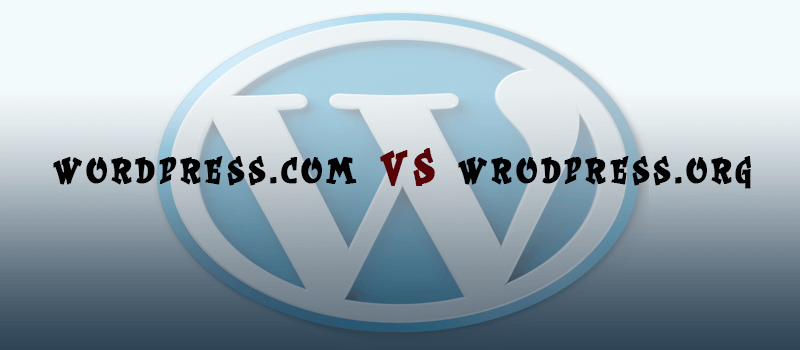 It's a common confusion for any first timer to choose one way to start with WordPress.
The basic difference between WordPress.com and WordPress.org is hosting. WordPress.com is itself a hosting platform, which freely hosts your website whereas; WordPress.org lets you download the software free and host it in your own server.
You must bring many things in consideration while starting with any of these choices. The table given below will help you have a clear concept in the selection process.
| WordPress.com | WordPress.org |
| --- | --- |
| A website that offers you create a website of your own easily by signing up with it. It is for a commercial purpose by WordPress creator Matt Mullenweg's company Automattic https://automattic.com/. | A website from where you can download WordPress software for free and create a custom website in your own server. It is a completely open source free project licensed under GPLv2 http://www.gnu.org/copyleft/gpl.html. |
| It provides free hosting of your website. Your site will have URL like 'www.yoursite.wordpress.com'. You can upgrade your site in WordPresscom to a custom domain with a certain fee. | You must find a hosting company on your own to host your website. You have to pay for hosting and domain name. |
| You can use only the themes and plugins available in WordPress.com. You must pay for customizing them. | You have limitless theme and plugin options. You can install any theme or plugin from the free WordPress repository or buy themes from marketplaces. You can even create your own theme and plugin with PHP and CSS. |
| You have less control over your website as you are bound to its Terms of Service https://en.wordpress.com/tos/. | You have a complete control over your website. You are free to place ads and monetize your website or use it for any other purpose. |
| It provides free maintenance and updates. You are not necessarily responsible for keeping your WordPress, theme or plugins up-to-date. | You are completely responsible for keeping your website alive. You must take care of WordPress updates, theme and plugins updates yourself. |
| It also ensures your site's security. Your website is hosted on secure servers under Automattic. Security and backup are free. | You must look after WordPress security and backup as well. From the selection of a secure hosting, installation of security and backup plugins to other technical security settings are in your own plate. |
| It is more appropriate for the beginners as it requires no technical knowledge. | It may not be the first choice if you lack some coding and designing skills. |
Keeping these main differences in mind, you can select a way to start with WordPress.
If you just want to publish your articles in a blog and don't want to invest your time and efforts on maintaining it, WordPress.com is the way to sign in.
If you want a full-fledged website of your own and want to put your real efforts on making it a good project, WordPress.org is the way to go.
You can simply create an account in WordPress.com to start making your website whereas you need to go for WordPress installation with WordPress.org. So, I will discuss WordPress installation and customization in the section below.

WordPress Installation
How to pick the right domain name?

Domain name is the website address and your identity in the web. When you are about to start a new blog or business website, you must carefully pick the domain name. You must make sure that your domain name suits your business, looks unique to others and helps you in branding your website.
Below are the actionable 5 tips to help you pick the right domain name:
1. Identify keywords: Your domain name must have keywords that define your website or products in the best way. It has higher chances for better search engine rankings if the domain name consists of keywords. For example, if you were launching a bookstore related website, you would better have the keywords like 'bookstore', 'online bookstore', 'free bookstore', 'eBook store' etc can be good keywords to include in the domain name.
2. Keep it short and easy to type: Your domain name should be short and simple with its accurate spelling. If your domain name is long and complex, you might possibly lose a number of visitors as they mistype it. Make sure that your domain name is catchy and easy to remember. Besides, using numbers and hyphens in the domain name is a bad pushback for your entire website.
3. Choose an appropriate domain extension: Domain extension refers to the suffix that adds at the end of the web address like '.com', '.org', '.info', '.net' etc . These extensions give some level of information to the users about the nature of your website, so choosing an appropriate extension is vital. For example, '.com' often indicates a commercial website, '.org' indicates an organization or community, and '.info' signals an information disseminating website.
4. Domain name generating and selection tools: There might be already thousands of websites related to your business and services, so finding a new domain name may be an inviting task. However, there are some tools help you check the availability of domain name and suggest you some unique domain names to start with. For example, Domainr, Dot-o-Motor, Domains Bot etc. can help you in this campaign.
5. Domain registrars: There are a plenty of domain registrars in the web, which offer you domain registration service. Among all of them, you can buy a domain name from one of the popular registrars like GoDaddy, BlueHost, Domain.com etc.
With these quick tips, you can pick a perfect domain name for your WordPress website. Above all, choose a domain name, which makes it easy for marketing or promoting your website in the web.
How to choose the best WordPress hosting?
The selection of the right hosting provider has a key role in making your WordPress website successful or professional one. A secure and good hosting ensures you protection from the hacks and spamming, awesome speed and site performance, good support and uptime. A good website hosting company is greatly responsible for better user experience and SEO.
There are many types of WordPress hosting choices like 'Shared hosting', 'VPS (Virtual Private Server)', 'Dedicated', 'Managed WordPress hosting' and even free hosting is available. There are many things to be brought in consideration while choosing a hosting provider. Along with hosting cost and prices, tentative website traffic, the level of your business, technical knowledge etc must be considered in the process of selecting a web host.
VPS hosting and Dedicated hosting are mainly useful for the websites having heavy-weight content and heavy traffic and also cost you more. On the other hand, shared hosting and managed hosting are cheaper and easier options for the beginners.
Below are some of the best WordPress hosting providers:
1. WPEngine
WPEngine is probably the most popular managed WordPress hosting and the one to initiate managed WordPress hosting for the first time. WPEngine provides an exclusive WordPress hosting. It takes care of your website speed, security and provides awesome customer support.
2. Bluehost
Bluehost is one of the best shared hosting providers. It provides a cool service that you never need to complain about the site speed, 1-click WordPress installation, 24/7 support etc at a reasonable price Bluehost is one of the oldest hosting providers as well as recommended by many.
3. SiteGround
SiteGround is another famous shared WordPress hosting provider. It offers advanced site security, wonderful site speed, WordPress auto updates and 24/7 support to its users. The cost of SiteGround web hosting is reasonable.
How to install WordPress?
Most of the shared and managed hosting servers (all mentioned above) provide one-click installation of WordPress in your server, which makes it very easy for the beginners. If the hosting company doesn't offer one-click installation, you must install it manually through cPanel (a hosting control panel). You can follow the simple steps for installing WordPress in your server with cPanel.
Login to your control panel with the login detail provided by your hosting. Commonly, you should see a control panel interface as below. But some of the hosting providers might have differently organized control panel however the basic layout would be the same irrespective of their arrangement.
Now click on the File Manager folder and upload all the files in /pubic_html/ folder if you want to install WordPress in the main domain like yoursite.com. You must create a folder like /public_html/blog/ if you want to install WordPress in a folder like yoursite.com/blog.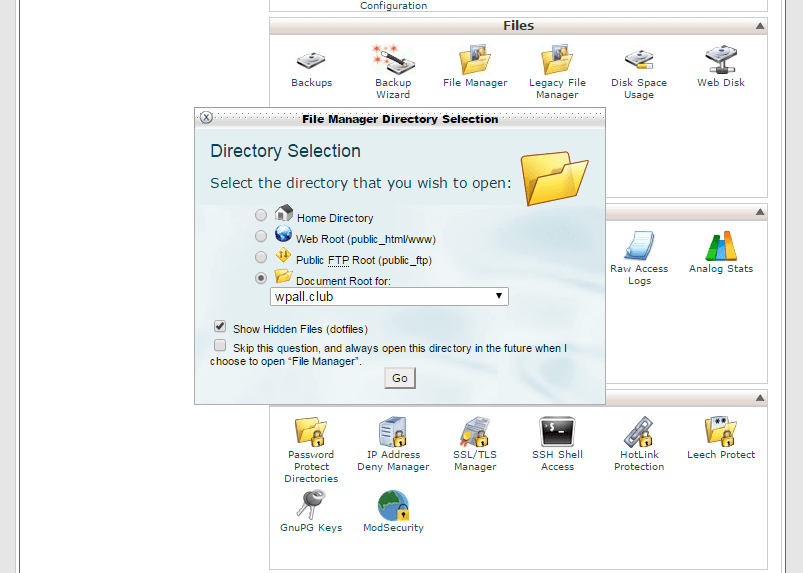 As you finish uploading WordPress files, you must create a database. Find 'MySQL Databases' option in the databases section.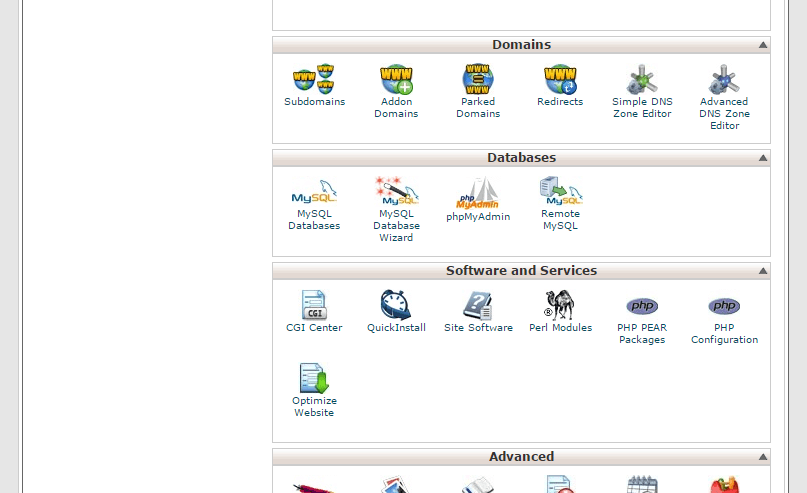 As you choose 'MySQL Databases', you will see a new screen where you can find 'New Database' box. Enter your database name and click on 'Create Database'.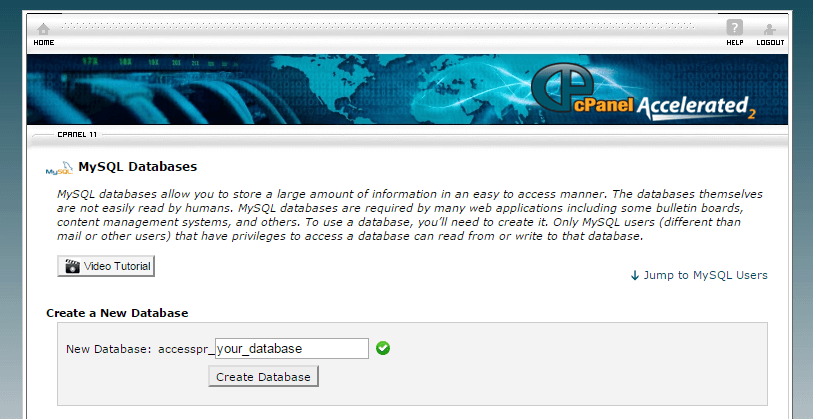 Now click on 'Go Back' button and create a MySQL user. Insert username and password and click on 'Create a User' button.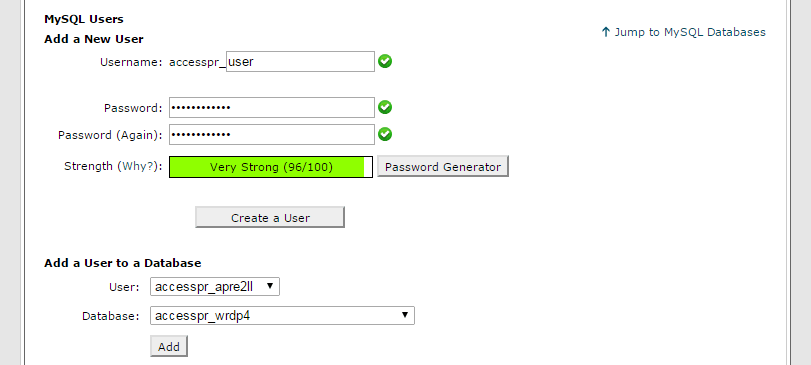 Now add the user to the database you created.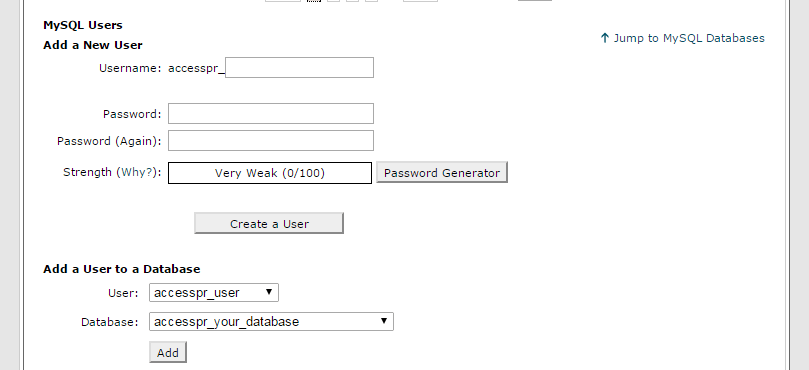 After the database and user are created, go to the URL (yoursite.com or yoursite.com/blog) where you uploaded WordPress files in a web browser.
You will come to a page with a button 'Create a Configuration File' on which you have to click for proceeding the installation.
Then, you will see a screen where you need to enter Database name, username, and password. Leave the last two fields as default and click on 'Submit' button.
The new screen will appear where you have to fill up your site title, username (use a custom username instead 'admin' by default), password and email address. Now, click on 'Install WordPress' button.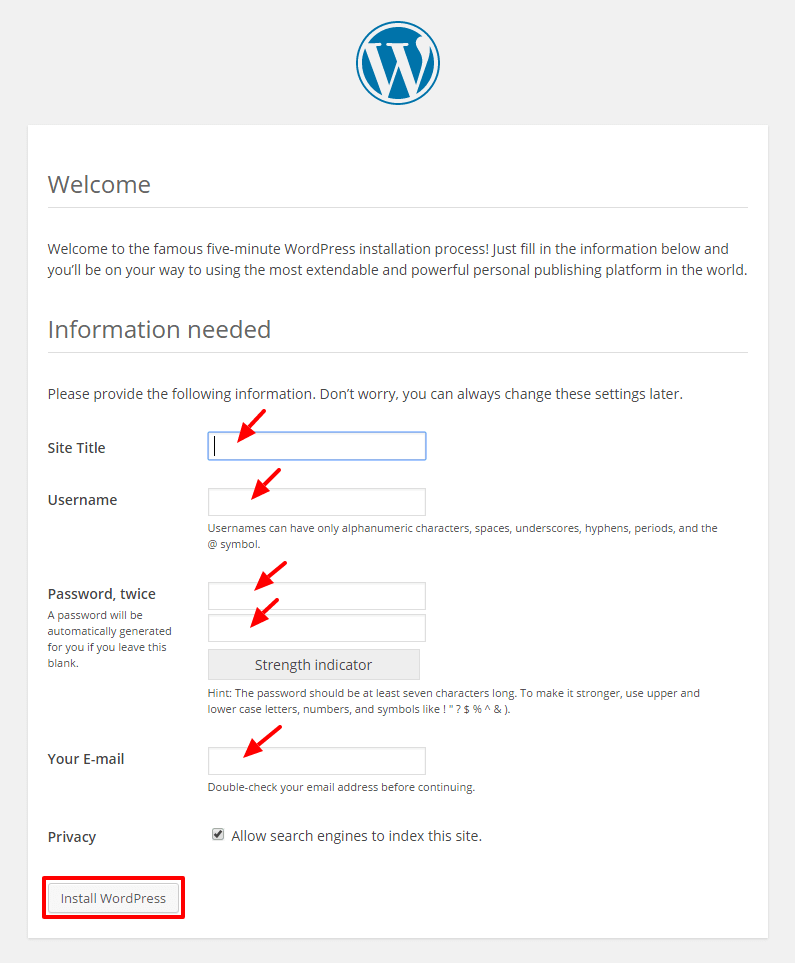 Finally, WordPress is installed and will appear a screen with a 'Success'. Click on 'Login' button and proceed it.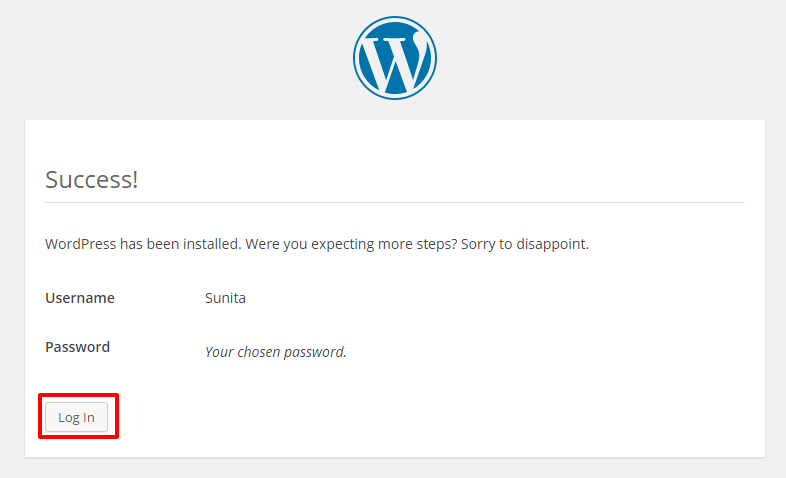 Now, enter your chosen username and password and click on 'Login' button. You are now at WordPress dashboard of your website.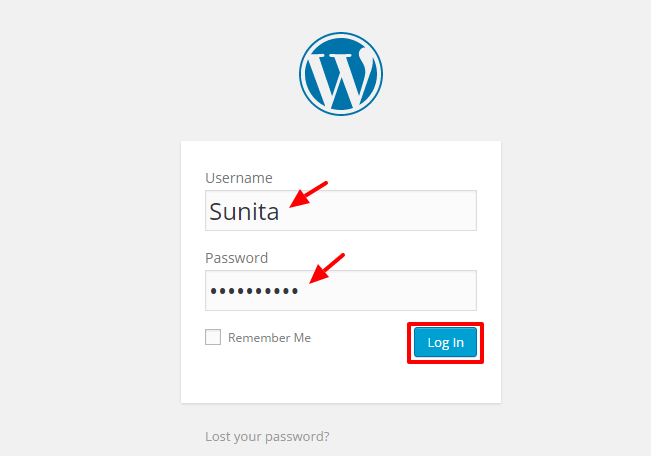 I will discuss the important WordPress dashboard settings, theme and plugins installation and much more in the sections below.

WordPress Themes
What is a WordPress theme?
A WordPress theme is more like a 'skin' of your WordPress website. A theme provides the complete design of the front part of your website, which the visitors can see. A theme controls the overall outlook and design of your website with various customizing options to display the website content in the site. HTML, CSS, and PHP files mainly construct the theme anatomy.
The WordPress theme used in a website determines how the website looks to the users, so the selection of an appropriate theme for your site is a crucial task. It makes the website making process as well as branding it very easy. You must choose a theme that suits your business and services. There are various categories of themes like blogging themes, business themes, eCommerce themes, magazine themes, portfolio themes etc. You can choose a theme from the suitable category according to the nature of your website.
Not only that, theme selection also has a vital role in the search rank of your site. The theme controls how your website is structured and looks to the search engine bots. So, you must consider various aspects of a theme during the selection process for better search engine optimization.
There are thousands of free and paid WordPress themes in the web. The paid themes are popularly called premium WordPress themes and if the theme has the free version, it is called freemium (meaning free theme with option to upgrade to the premium version).
In the sections below, I will be discussing where to find best free and premium WordPress themes.
Where to find free WorPress themes?

There are thousands free WordPress themes in the WordPress Theme Directory. It is the official WordPress theme repository from where you can download the best quality (good quality if not best) WordPress themes free. The themes are strictly checked with Theme Development Standards of WordPress so it is the best and secure place to download any free WordPress theme.
Besides, you can find free WodPress themes (freemium) from various theme stores, which upgrade the theme to premium theme and sell. The freemiums are upgraded with more features and functionalities and sold out.
Where to find premium WordPress themes?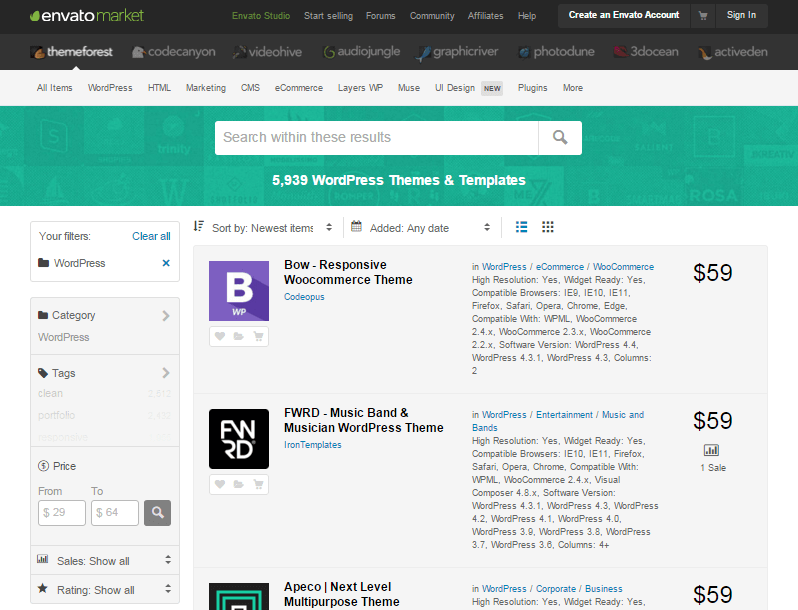 It is often asked why people buy a premium theme when a free theme enables you to create a complete website. It is because people may need extensive support, features and compatibility than a free theme has. To power heavy-weight websites with a huge data and thousands of traffic every day, the website needs to be strongly powerful, secure, compatible and responsive. As a beginner, free WordPress themes are cool enough for you.
You can buy a quality WordPress theme from mainly two ventures: Theme marketplaces and
Theme companies.
Theme marketplaces
1. Themeforest
Themeforest is the largest marketplace of premium website templates including many frameworks like Joomla, Magento, Drupal etc. along with WordPress themes. Themeforest has a collection of 5900+ WordPress themes and templates below various categories.
2. Creative Market
Creative Market sells handcrafted elegant WordPress themes along with beautifully designed graphics, icons, photoshop brushes, fonts and many creative items. It has 2200+ WordPress themes of different categories.
Click here for more theme marketplaces.
Theme companies
1. Elegant Themes
Elegant Themes is one of the big brand names among WordPress theme makers. It has 80+ premium multipurpose WordPress themes in its store.
2. Template Monster
Template Monster features 1500+ premium WordPress themes with advanced functionality and awesome design.
3. AccessPress Themes
AccessPress Themes is comparatively a smaller theme company, however, the simple and beautiful themes are very useful. It features both free and premium WordPress themes.
How to install a theme?
With a brief introduction to WordPress themes, now I am going to discuss how to install a theme. There are many ways to install a theme however, I recommend you doing it right from the WordPress dashboard (the backside part of your site). It is the best choice for beginners as it might be the easiest process existent.
First log in to the WordPress dashboard of your site by browsing www.yoursite.com/ wp-admin and entering the user login details set while installing WordPress. Then, select 'Appearance' panel and click on 'Themes'. Select 'Add New' and you will see a window like in the screenshot.

Now take your time to choose a right theme for your site. You can see different categories as such 'Featured', 'Popular', and 'Latest' which can guide you to choose a theme you need. Among these categories, you can simply pick a theme from the 'Popular' category because many people have used it and found it useful.
Besides, you can preview the theme using the 'Preview' link on mouse hover or directly search any free theme you want to use in the 'Search Themes' box.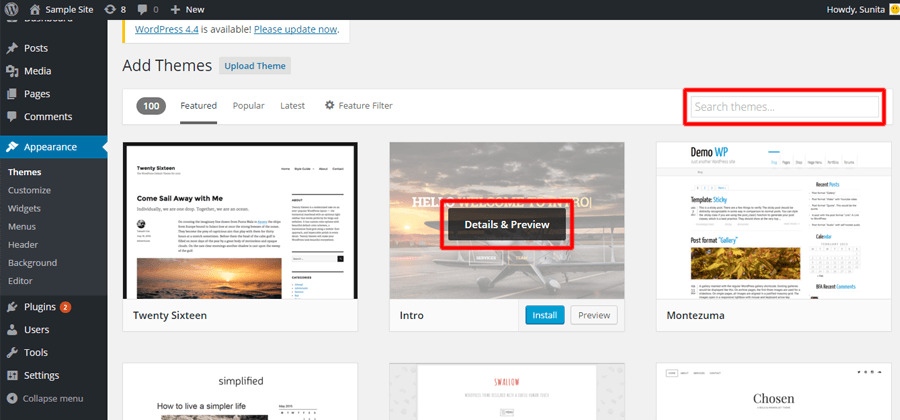 You can also filter the themes using 'Feature Filter' and simplify the search.
Once you decide which theme to install for your website, click on 'Install'.
Now, you are done with theme installation process and ready for customizing it and feeding content.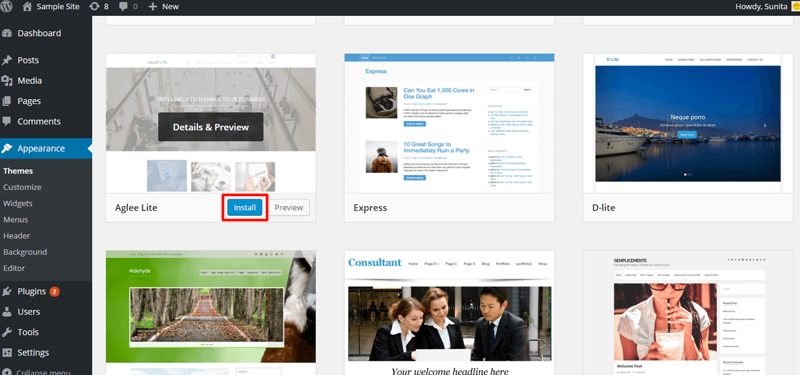 However, if you want to install a premium theme, you must do it a bit differently (Applicable for free themes as well).
First, download the zip file of the theme from the theme store or theme marketplace in your computer device. Then follow the same process as suggested earlier Appearance> Themes> Add New.
Now, select 'Upload Theme' and 'Choose File' to upload the zip file of the theme saved in your computer.
Once the file is uploaded, click on 'Install Now'

This is how you can install a theme.
How to add widgets to the theme?
WordPress Widgets play an important role in making your WordPress website complete. WordPress Widgets are used to add content in the website sidebars or other areas as per theme options. You can add various kinds of contents like text, video, images, custom lists, etc. All the WordPress themes have some widgets by default like archives, calendar, search, categories, custom menu, etc and some custom widgets as well according to the theme.
In order to add widgets, go the 'Appearance' panel and click on 'Widgets'. It will show you the available widgets, now drag the one you want to use and drop it in the 'sidebar'. You can arrange and rearrange the widgets within the sidebar by dragging it to the place you want to insert.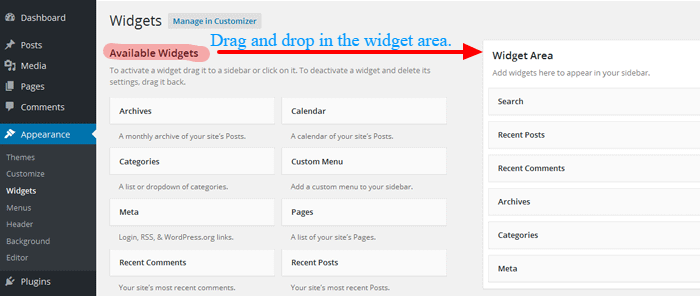 You can customize the widget features by clicking the down arrow in the upper part of he the right corner and save it after necessary changes are made.

WordPress Plugins
What are WordPress plugins?
WordPress Plugins are pieces of PHP coded software to add functionality to the WordPress site. They provide extra functions to the WordPress website, which the theme does not include. There are thousands of plugins available in the web for different uses. Some of the most commonly used WordPress plugin categories are social media plugins, SEO plugins, eCommerce plugins, forum plugins, security plugins, etc.
As the purpose or niche of the websites varies, people can select and use only the plugins necessary for their site. You can find thousands of free as well as paid plugins in the web.
I will explain briefly where to find free premium plugins in the sections below.
Where to find free WordPress plugins?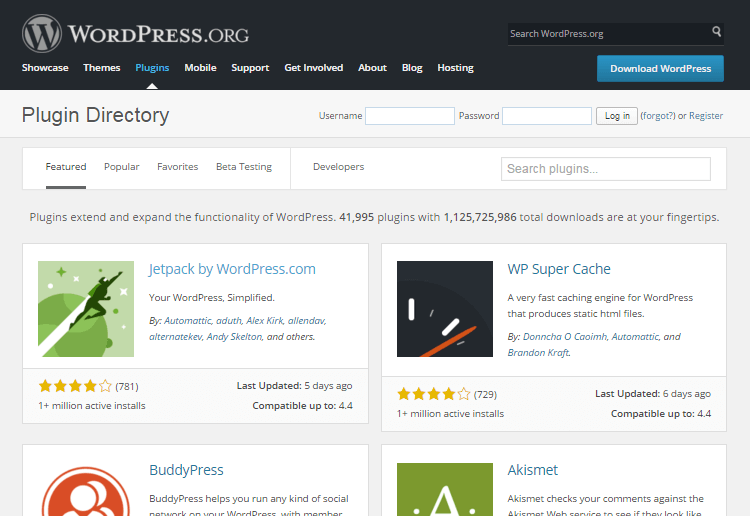 The official WordPress Plugins Directory is where you can find safe and good quality WordPress plugins. It has a collection of 41,000+ free WordPress plugins for various purposes. As I stated earlier, you can install only some of the WordPress plugins useful for your website.
Either myth or the reality, plugins are often questioned about the security issues they may create. So, before installing a plugin, it is essential to ensure the source of the plugin is secure. You can check when the plugin was last updated, number of installs, reviews etc. to know its usability and security.
Besides, you can also find them in the individual plugin companies/ stores like themes. There are many theme companies, which develop both themes and plugins.
Where to find premium WordPress plugins?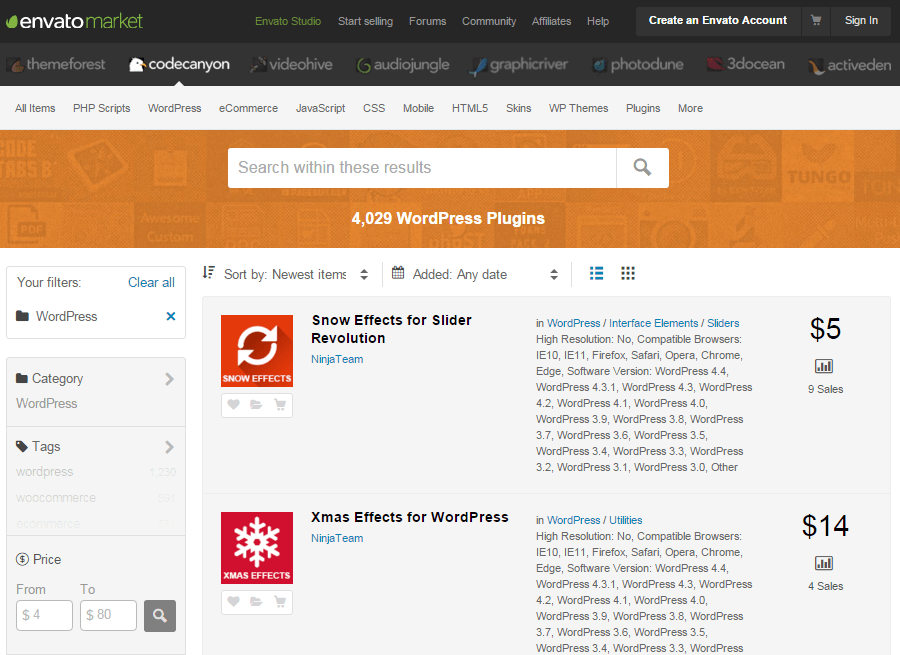 Like premium themes, you can buy any premium plugin from the marketplace or the website owned by the plugin author himself or herself. There are often the same marketplaces and authors selling premium themes and premium plugins both.
Probably the largest plugin marketplace is CodeCanyon that has 4,000+ premium WordPress plugins under various categories. It offers an advanced search interface to filter the plugins and easily find the one you need. Quite confidently, you can pick a plugin under the 'Popular' category however, you must take time doing a quick research to learn about the plugin before purchasing it.
Elegant Themes, WooThemes, Yoast, AccessPress Themes, INK Themes, etc are the popular and useful WordPress plugins sellers in the web.
How to install a plugin?
There are many ways to upload a plugin however, I will discuss the simplest way only here; installing right from the dashboard. It is moreover similar to the theme installation process.
Select 'Plugins' in your WordPress dashboard and click on 'Add New'. You will see a similar window like in the screenshot below.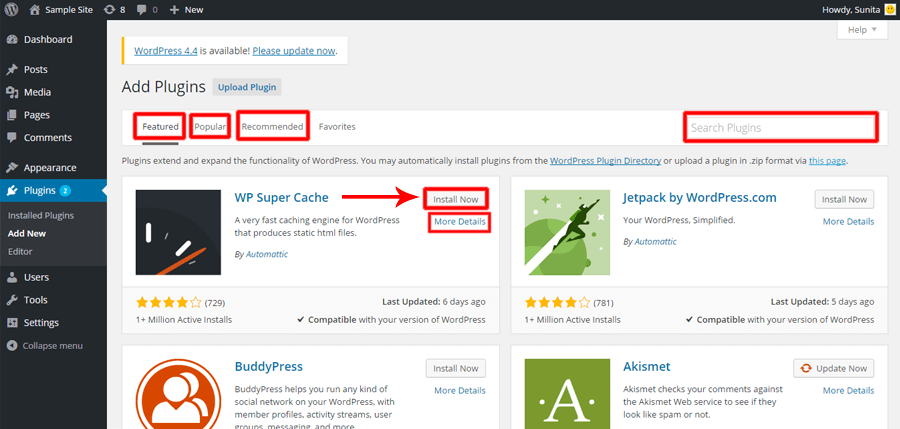 You can do a quick research on the plugin and read the details and reviews before installing. If you have done a prior online research on the plugin you require, you can simply type its name in the search box and find it right away. Once you decide which plugin to install, you can directly click on 'Install Now' button to proceed the installation.
But if you want to install a premium plugin or upload the zip plugin file which you have in your computer, you must go to 'Upload Plugin'.

You can also install a free plugin through this process if you have already downloaded the zip file in your local device.
What are must-have plugins for a WordPress site?
WordPress plugins are developed for specific functionality, so must-have plugins for each website may vary according to the nature/ niche of your website. However, there are some plugins useful for all types of websites for better UX, maintenance, SEO, security, etc.
I have put together some of the common but very useful plugins below:
1. Yoast SEO
Yoast SEO is an awesome plugin, which takes care of almost every aspect of your website for better search engine ranking. All in One SEO is another identical SEO plugin and a good alternative to Yoast SEO.
2. Jetpack by WordPress.com
Jetpack is a must-have plugin for maintenance of your WordPress site. It is a feature-rich plugin that helps you with traffic insights, security, speed, etc.
3. W3 Total Cache
W3 Total Cache is called 'Web Performance Optimization (WPO)' tool for WordPress. It helps you enhance the page speed and performance by caching.
4. iThemes Security
For keeping your website protected from the spamming and hackers, iThemes Security helps you in a great deal. It identifies the site vulnerabilities, fixes them up and strengthens user credentials so that you can keep your site protected.
5.Contact Form 7
Contact Form 7 is the most popular contact form plugin for WordPress. It is very easy to setup and use this plugin for creating and managing multiple contact forms.
Other useful WordPress plugins:
6. Disqus Comment System: To better manage website comments and make the interaction easier.
7. WooCommerce: A complete eCommerce solution for WordPress.
8. Login LockDown: A WordPress security plugin which controls the login attempts and keeps your site secure.
9. Broken Link Checker: Inspects your website content for any broken links and helps your site remain alive and healthy.
10. MailChimp for WordPress: Helps you connect with your website visitors, customers with cool email campaigns.
With a short overview on WordPress themes and plugins, now I will discuss some necessary backend settings in the section below.

WordPress Settings
As you are new to WordPress, I am trying to go in a step-by-step process. Once you complete the installation process and choose theme for your site, you are all set to start the customization at the back end of your website- the WordPress dashboard. Irrespective of your website niche, some common settings are necessary for every website such as General settings, Permalinks, and Discussion etc. I'm going to teach you how to do these settings before you start feeding content.
General Settings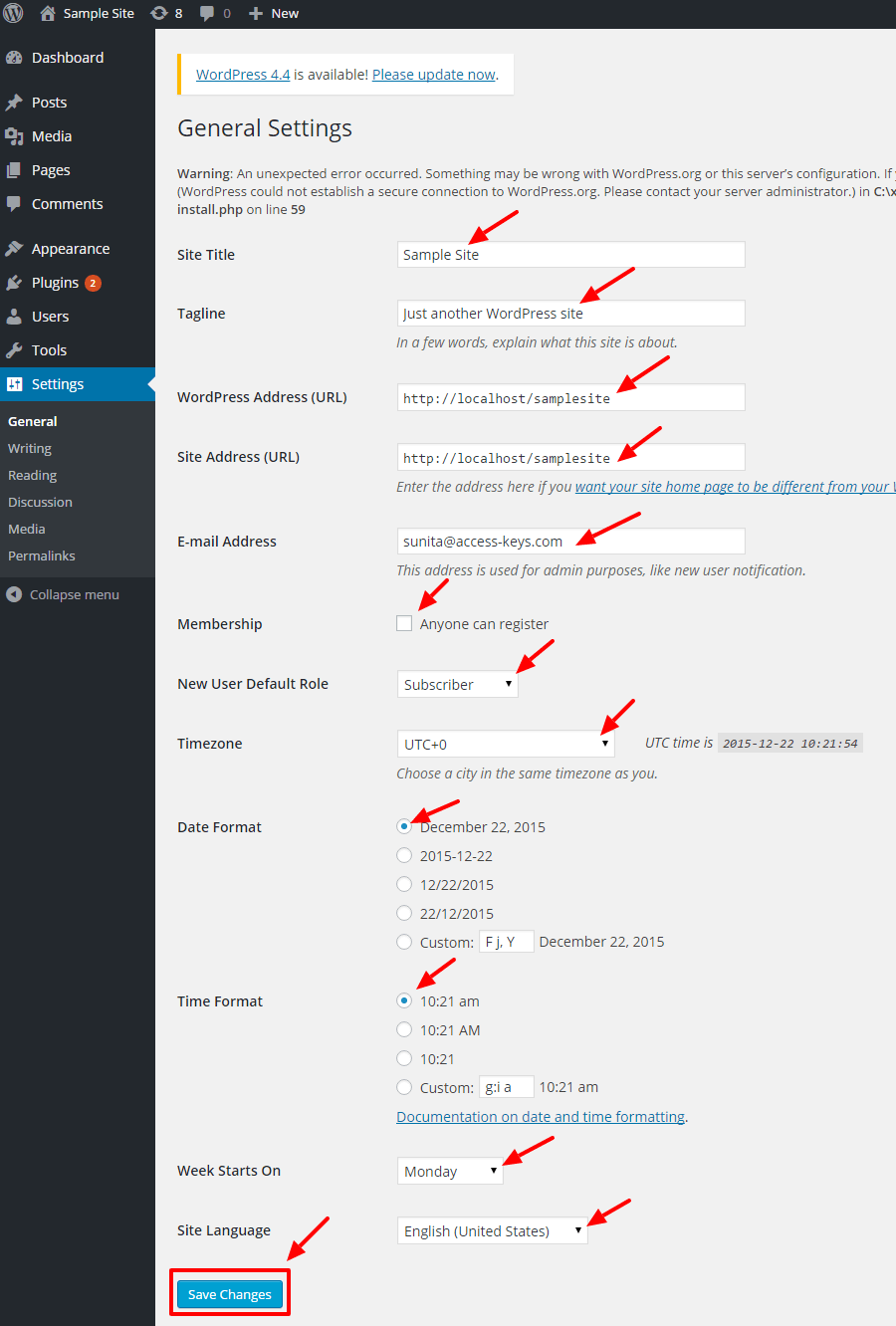 Go to 'Settings' in your WordPress dashboard and select 'General'. General settings contain the fields asking you the general information about your website like, Site title, tagline, WordPress Address (URL), email address, membership check, date format, time format, language etc. Fill up the fields with the information required and click on 'Save Changes'.
Permalinks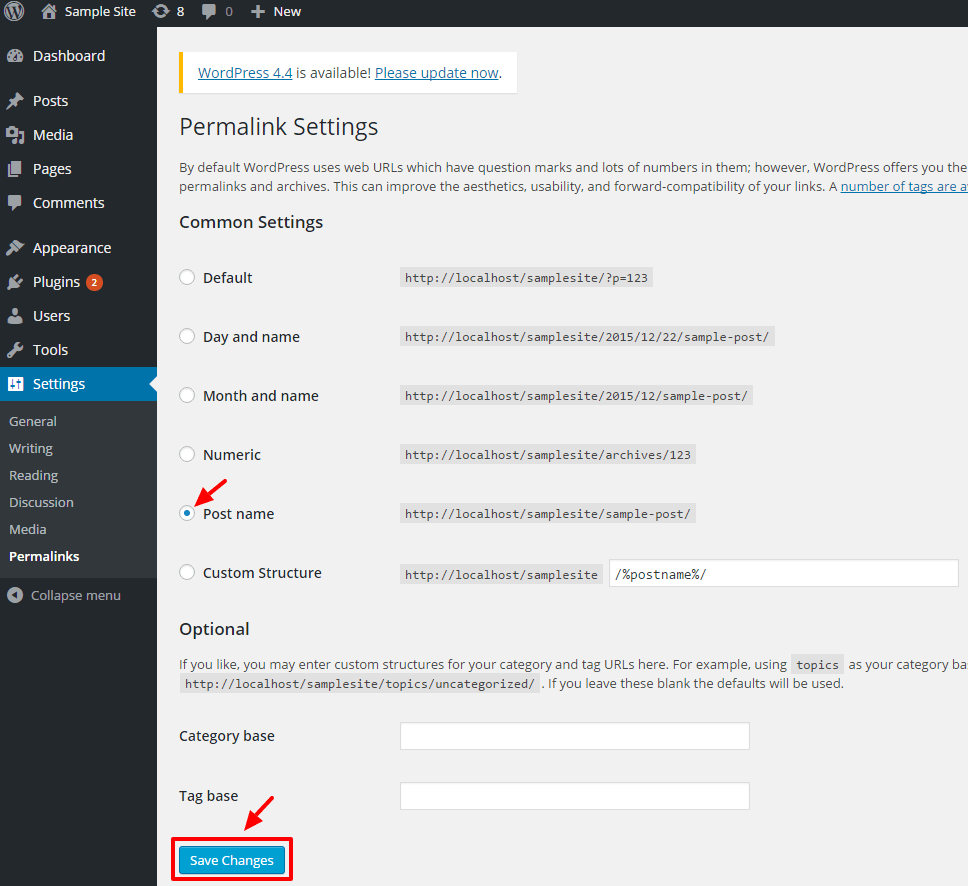 Permalinks define the URL structure of your website. To change 'Permalinks' settings, go to Settings and then select 'Permalinks'. It will display a window with common settings, from which you can choose any one or use custom structure. It has default structure http://yoursite.com/?p=123 and other options with day and name, month and name, numeric, post name and custom structure. Among all, for the beginners, choosing post name seems fine, which provides a short SEO friendly URL.

Feed your website with quality content
Now you are done with overall structure building of your website. So, it's time to focus on feeding the skeleton structure with some quality content. When it is about the success of any website, the most important thing that matters is the content. Even the Google Algorithm has been updated times and finally it values the quality content you offer through your website.
So, start a research in your business topic, find out the powerful keywords around your niche and start posting useful content for your audience. In order to publish text and graphics content, WordPress offers you mainly two ways: pages and posts. Content in the 'Pages' and 'Posts' are added in quite similar way however, these two function in distinctive ways.
By 'Pages', it means the static pages in your website, which often remains the same whereas 'Posts' refers to the content you publish timely in a certain interval. For example, the content like 'About', 'Contacts', 'Disclaimer', 'Blog' etc are the pages whereas the every article you post in the 'Blog' happens to be a 'Post'. The page structure usually remains the same whereas posts may not be.
In order to add pages or posts, you must know how to use 'Post Editor'. Post Editor is where you can insert your content, edit, save it (as drafts) and publish. Go to 'Posts' or 'Pages' (whatever you are adding) and click on 'Add New'. You will see a screen like this.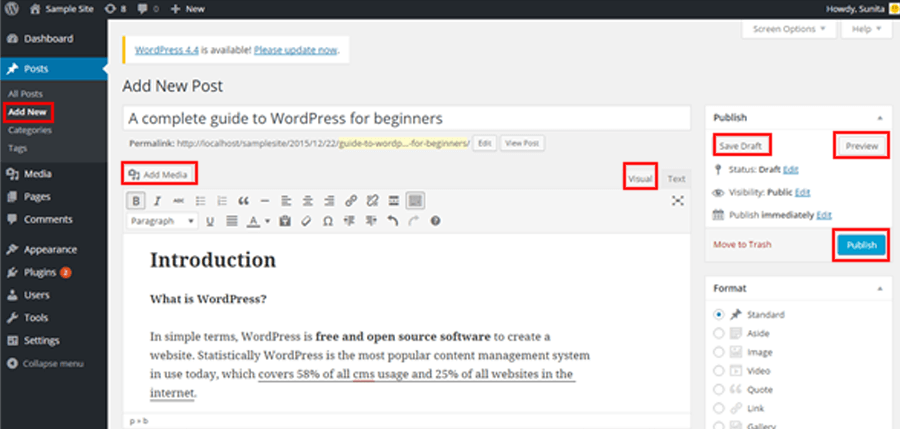 Now you can insert your post title in the 'Title field' and start writing in the content field. As a beginner, you may lack coding knowledge, so click on 'Visual' and simply edit your text with document styling tools as such Bold, Italic, numbering and bulleting, paragraph align etc. You can click on 'Toolbar Toggle', it will provide some more formatting tools hiding in it. In order to add images, you can select 'Add Media', browse any image from your computer and insert it.
Now you can simply preview your post by clicking on 'Preview' button. If you are okay with how it looks, you can click on 'Publish' and 'Save Draft' if you want any further editing to it sometime later.

WordPress Security
When you launch a website live, you are in the eyes of different kinds of viewers, humans, non-human and even spammers. You never know where there are loopholes in your WordPress website, which hackers and spammers may be looking for. Being ignorant to the WordPress security may cost you a lot, so identifying the vulnerabilities and taking actions for preventing attacks seems a wiser choice.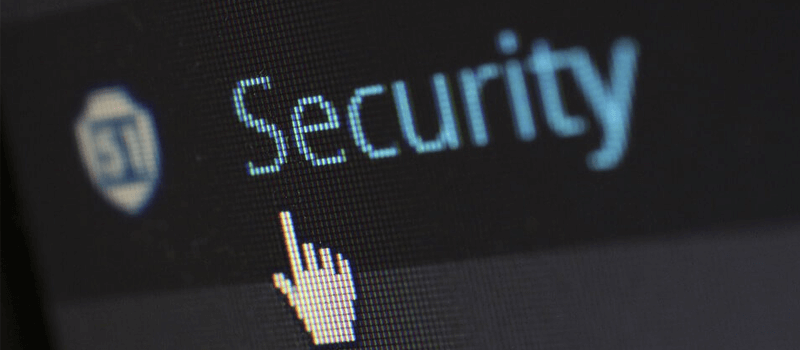 There are some technical aspects that must be taken care of. Besides, keeping WordPress updated with the latest version, updating the themes and plugins, using the themes and plugins from the secure services can take care of your WordPress security to the large extent. Using security and backup plugins also help you protect your website from the damage attempts.
Here are some of the best WordPress security plugins:
1. Wordfence Security
Wordfence Security is one of the most popular WordPress security plugins which takes care of your website from every aspect and makes it safe. It runs a deep scanning of your site including the core WordPress with themes and plugins.
2. iThemes Security
iThemes Security is another useful security plugin for WordPress. It helps you prevent site attacks by hiding the important areas of your site, fixing the vulnerabilities, making the user credentials strong etc.
3. All In One WP Security & Firewall
Like the name, All In One WP Security & Firewall is a complete security and firewall plugin for WordPress. It takes care of overall security issues of your website by inspecting the vulnerabilities and application of the latest security techniques.
You can find more WordPress security tips here in detail.

WordPress SEO
SEO seems to be a very popular topic in the online business today and you might have very often heard about it. If you are wondering what it is all about, I'll give a brief introduction of it here.
SEO stands for Search Engine Optimization, which means optimizing/ upgrading your website for better visibility of your website in the organic search engine result pages (SERPs).The significance of SEO lies in the generating more organic traffic (visitors) to your website and finally extending your business.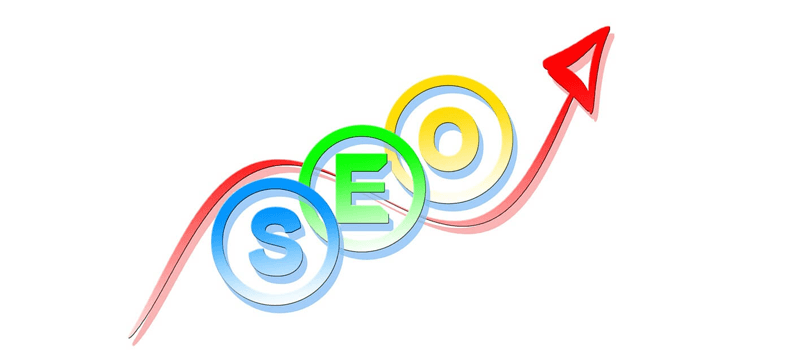 SEO includes everything that is required for making it easily accessible and comprehensible for the search engine spiders as well as the users as UX (User Experience) matters for the rankings. In simple words, SEO is making your site content easy to access and read for the search engine bots.
It is mainly focused in making your site rank at the top of search engine results for a certain keyword. To outrank your competitors and stand at the top of search results requires a better SEO. There are various aspects to consider for upgrading your site for better search engine rankings. From the selection of suitable keywords, outreach, link building, to various technical aspects are essential for SEO.
There are mainly two types of SEO namely: on-page-SEO and off-page SEO. While talking about WordPress, it is automatically SEO friendly framework. In addition to that, there are a number of SEO plugins available in the web free. Yoast SEO and All In One SEO are popular SEO plugins. Check out more free premium WordPress SEO plugins here.
Apart from plugins, there are hundreds and hundreds of SEO tools that help you improve your website's online visibility.

Wrapping Up

I have tried my best to address the general queries the beginners might have regarding WordPress however, there can be more topics for discussion. If you have any, feel free to write down below in the comment box.

Was it useful for you? Let me know………
Best wishes for your new WordPress journey! 🙂