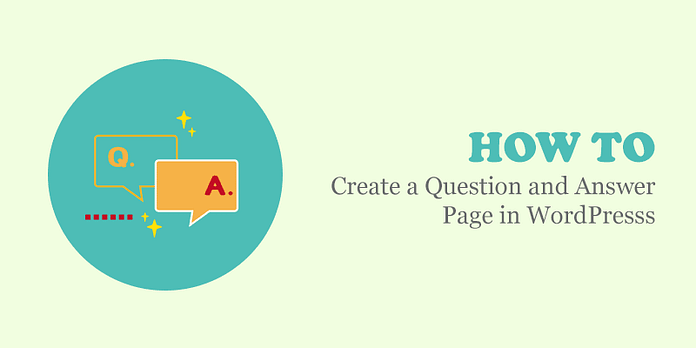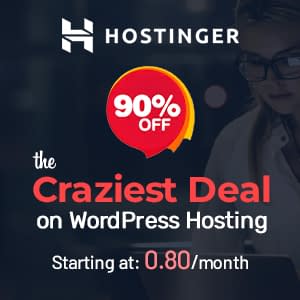 Do you want to create a question and answer communities like StackOverflow, Yahoo Answer, Quora, etc on your WordPress? These questions and answers websites are fun, highly engaging and very helpful to learn about different queries that occur on your mind. They make money from user-generated content which makes them easier to start an online business.
In this article, we will show you how to create a question and answer page in WordPress website without needing any coding skills.
You can create a whole website dedicated to question and answer a single FAQ page or add a question and answer section on your existing website.
Setting Up Question and Answer Page on WordPress
The first thing you need to do for setting up question and answer page on your website is to install and activate DW Question & Answer plugin.

If you are a newbie and have difficulties while installing the plugin, check out our tutorial – How to install themes and plugins in your WordPress website.
Upon activation, the plugin automatically creates 2 different pages on your website,

i.e.
DWQA Questions: It displays all the questions.
DWQA Ask Question: It contains a form where users can ask new questions.
You can change the title and slug of the page as per your need by clicking on the "Edit" link.
The next thing you need to do is allow user registration on your website.
For that, go to Settings >> General page and scroll down to "Membership" section.

There, check the box near to "Anyone can Register" and set the user default role as subscriber.
Now that you have enabled the user registration, let's configure the settings available on the plugin.
The plugin contains 3 different settings tab. They are:
General:
In the general settings, you can choose the page to display Ask Question form and List All Question. You can notice the default pages created by the plugin will already be selected.
If you want to display some other page, you need to copy and paste the shortcode given below the settings.
Under the question settings, you can select the number of questions that you want to show on archive page. You can also enable the moderation options to manually moderate the questions before placing them on your website.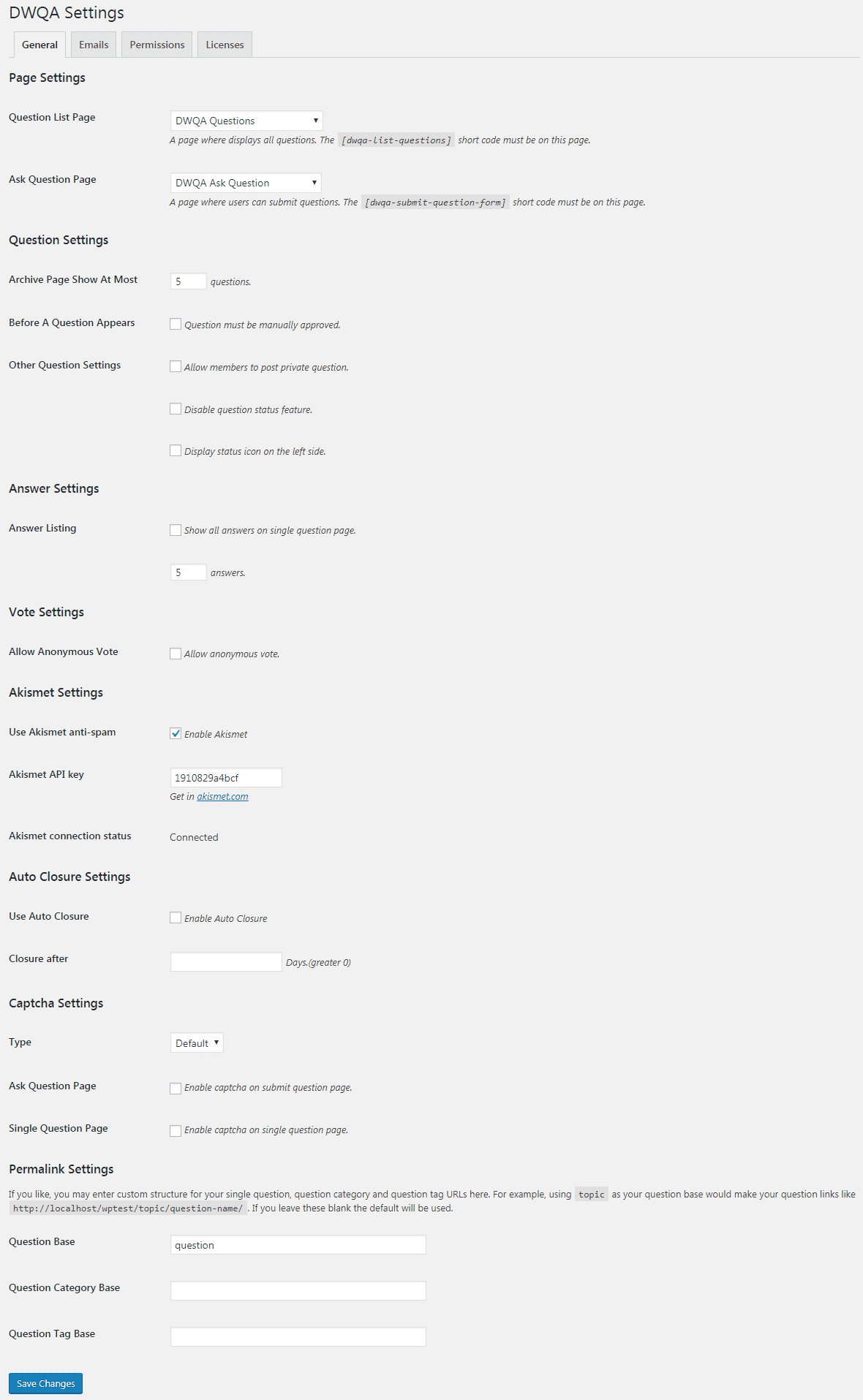 The plugin also comes with inbuilt options for spam protection features. You can enable the Akismet anti-spam feature and provide its API key.
Besides, you can also enable Captcha to keep away automated spam bots from your questions and answers forum.
Then, click on "Save Changes" button to store your configurations.
Email:
Here, you can upload and modify the email notifications sent by the plugin.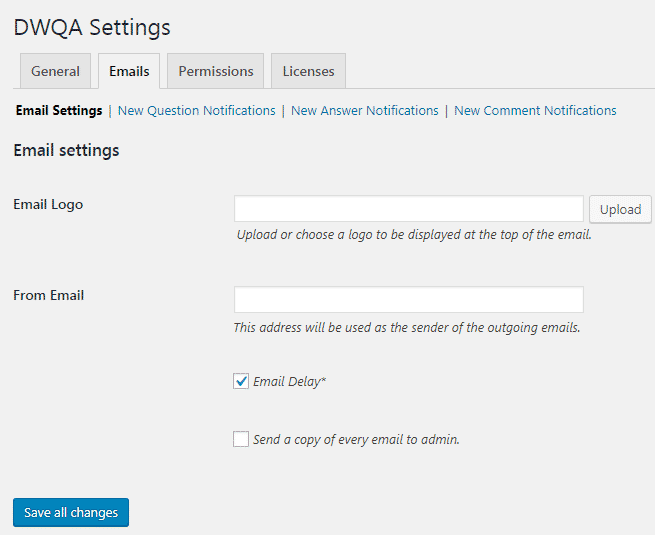 Permission:
This tab allows you to set up the permissions on the questions and answer as per your user role.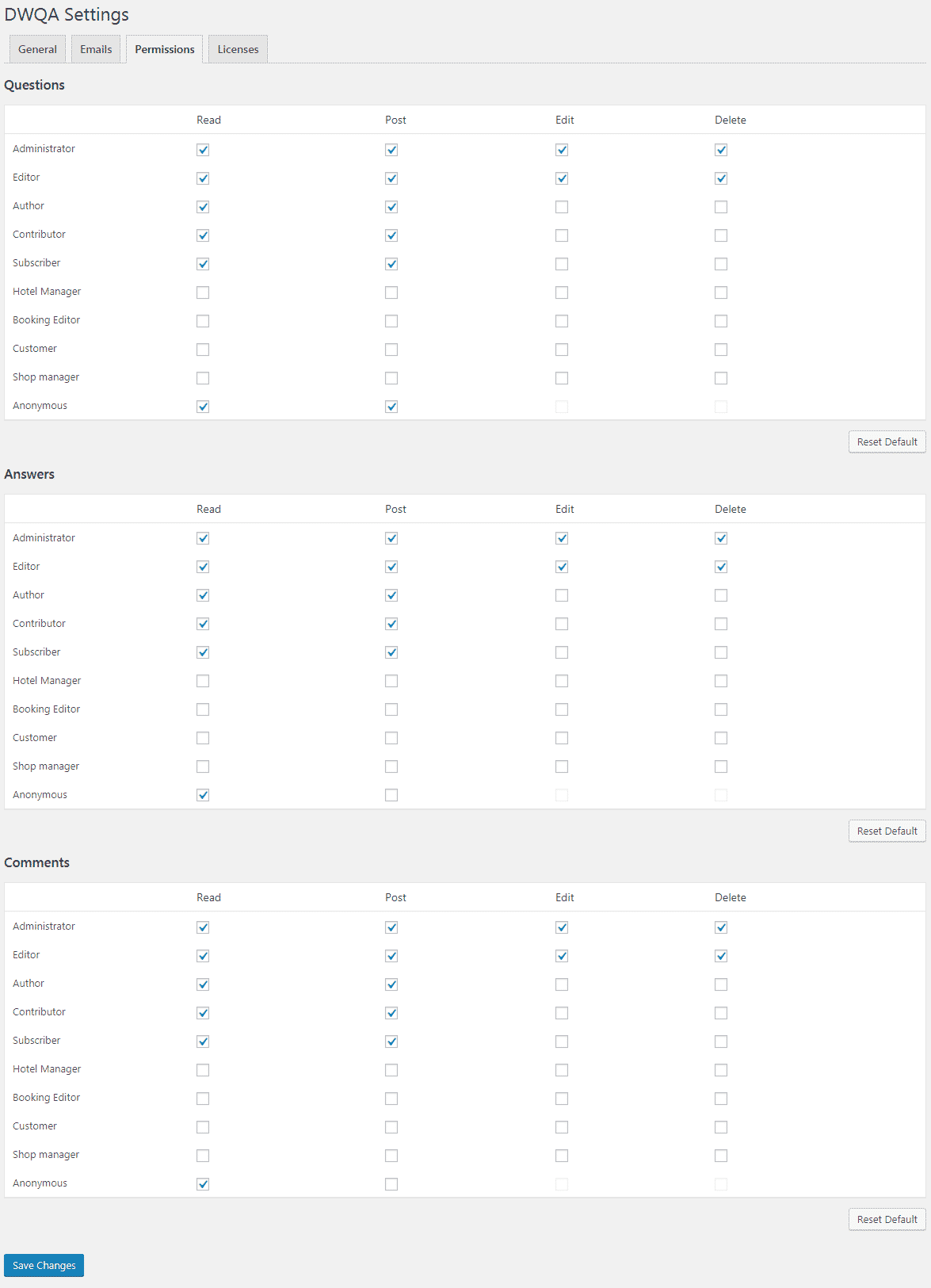 By default, the plugin allows Administrator and Editor to read, write, edit and delete all questions and answers. While Authors, Contributors, Subscribers and Anonymous can read and write the questions and answers.
You can change any permission as per your needs.
How to Manage your Question and Answer Website?
You can view all the questions added on your website by visiting DW Q&A >> All Question page. As a web admin, you can edit, delete, any questions posted by the users. You can also add different Question categories as well.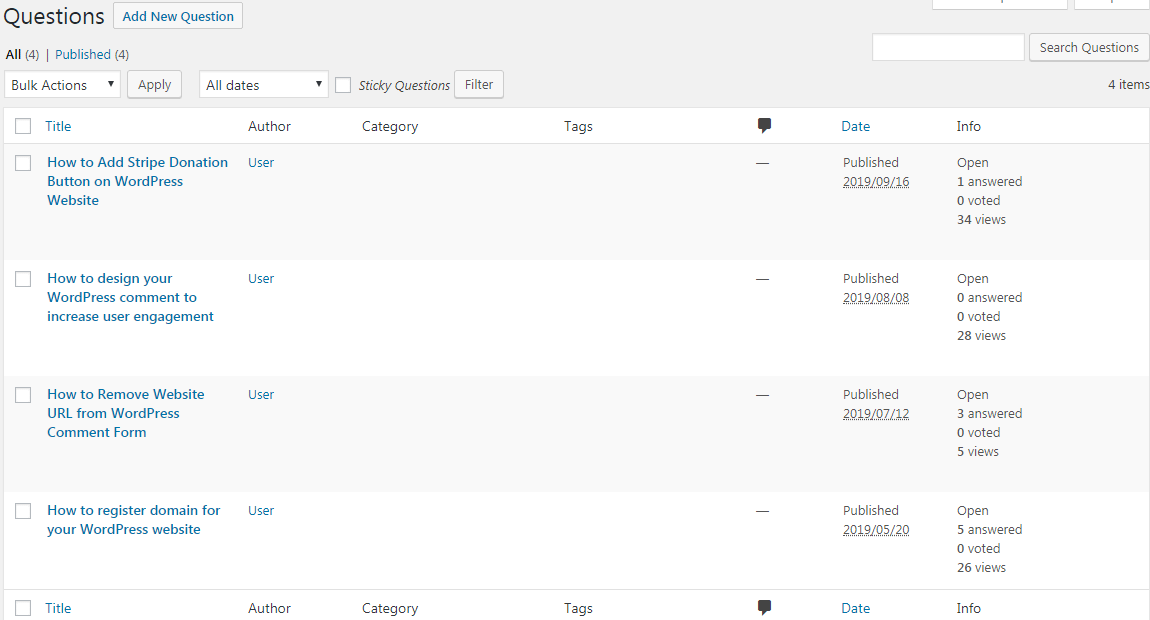 Frontend Features of your Q&A Site
DW Question & Answer plugin works well on most of the WordPress themes. This is how the questions will look on your website:
Questions can be sorted by its status, categories, views and answers. Users can post questions, submit answers, and add comments. Besides, users will also be able to search and follow the questions by clicking on the star icons next to each question.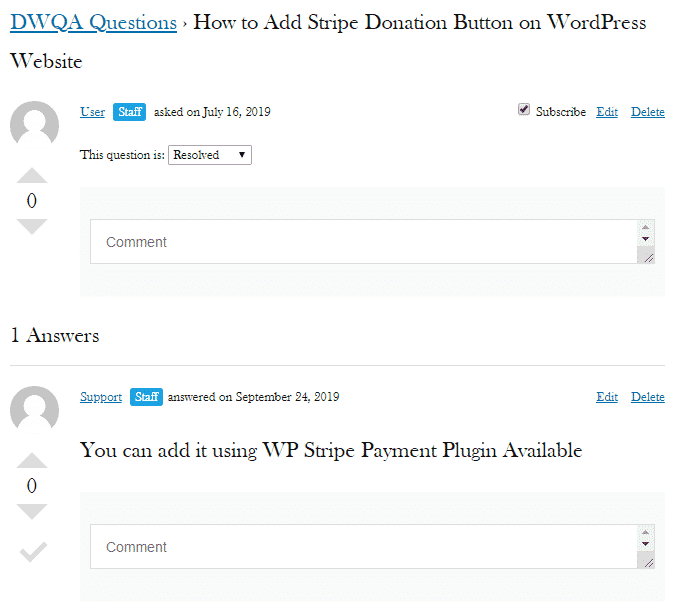 The user who has posted the question and the site admin has the ability to mark a question as resolved after the respective answer is obtained. Users can also vote the answer, choose the best answer and add the comments for the questions and answers. This makes the user interaction deeper for the users to engage in the discussion around the topics.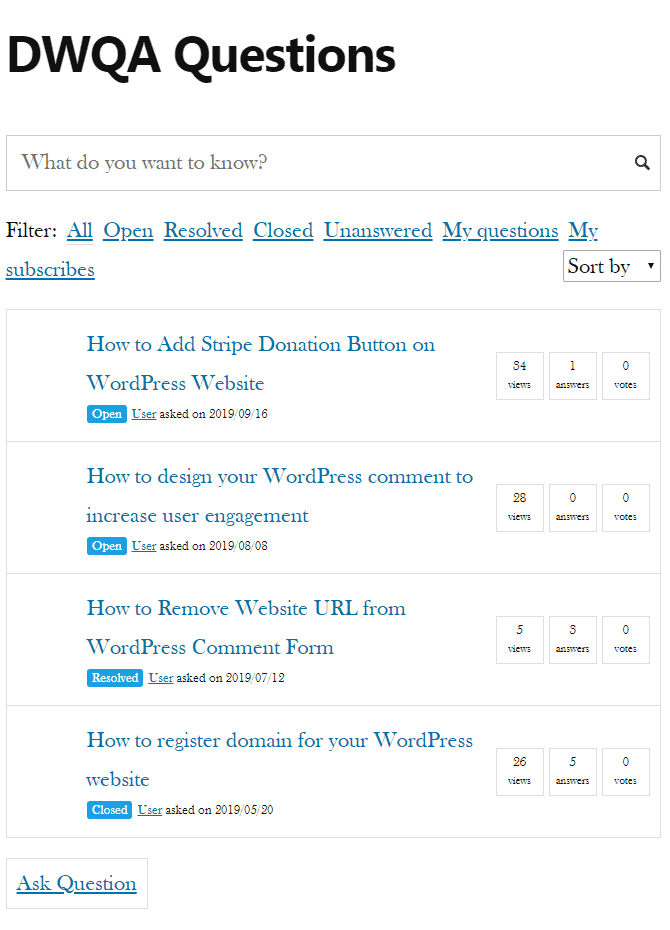 Conclusion:

We hope the article is helpful for you to build your own question and answer community on your WordPress website. If you like this article, you can check out similar step by step guides from Learn WordPress Online – Step By Step (Free Guides).