In the last tutorial, we learned how to configure Reading settings in WordPress website. In this tutorial, we are moving a step ahead and learning how to configure writing settings in WordPress website. Writing settings allows you to choose default category for the post and help you to configure post via email. They can be very important for you as the advanced user. Now, let's enter into Writing setting.
Step 1
Log in to the WordPress dashboard. Click on the Settings >> Writing menu.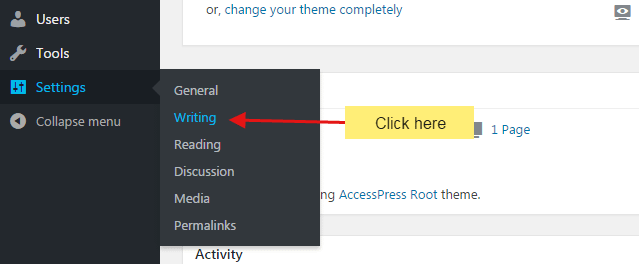 Step 2:
You will reach to the Writing Settings page.
Default Post category: When you create a new post. You'll see that 'Uncategorized' category in assigned to it by default. From here, you can change the default post category to any other.
Default Post format: Your WordPress theme may have provided different post formats for your posts. You may have seen that 'Standard' format is assigned by default. From this setting, you can change the default post format.

Step 3
This setting for those who want to publish posts via email. First of all, create an email account with POP3 access. You can create such email in Gmail or from your hosting provider. Ensure to use random text in the email address and keep it very secret as any email sent to this email account is directly posted to your website.
Enter the Mail Server and Port. Enter your secret email account as Login name and then input its password in the Password field.
You may want to change the Default Mail Category as well from here.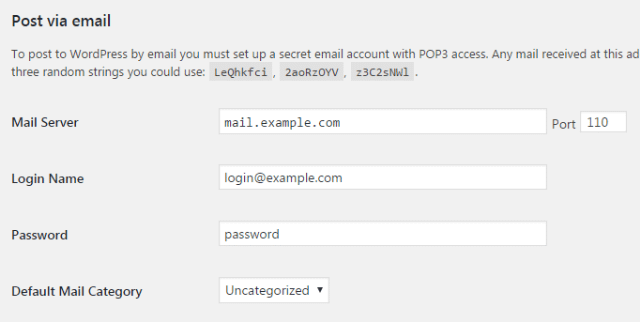 Step 4:
This setting is for the update services. Update services notify the search engines that your site has been updated with the new post.
WordPress by default does it from rpc.pingomatic.com. So, you need not touch it. But, if you have more such services, you can input here with line breaks.

Congratulations! You have learned how to configure writing settings in WordPress website.
Wrapping Up
Hope the tutorial was helpful for you. If you get any problem when you tried to configure Writing settings in WordPress website, please leave a comment below. I'll help you in the best way possible.
We have many other WordPress tutorials on the way. So stay tuned.