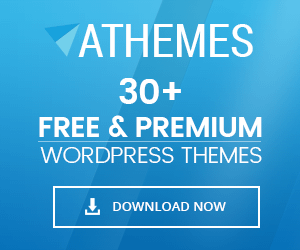 Do you want to add a contact form on WordPress website? As a website owner, you must give your user an easy way to get in touch with you for your products and services.
Here, in this article, we will show you the simplest way to create contact form on WordPress.
Why Add a Contact Form on WordPress Website?
There used the time when people used to add their email address on their contact page to expecting keep in touch with the vistors. It somehow used to work, but not as efficiently as a contact form does. There are different reasons for it. They are:
User-Friendly Communication: Contact form allows your users to quickly communicate with you from the website itself as they don't have to copy your email address, open their email account to send you an email.
Protection from Spam Emails: While displaying your email address openly on your website, there is a good chance of getting spam emails. But, by using the contact forms, you can get rid of these spambots as it does not show your email address.
Organized Information: When emailing, people might send you the information on their unique styles and you will need to process it by yourself. But from a contact form, you will receive the emails in an organized and consistent way as you will be allowed to set the fields that you want while your visitors fill out the form.
Now let's check out the steps to create contact form easily on WordPress. Here, we will be using Ultimate Form Builder Lite – a best free WordPress plugin to create and add a contact form on your WordPress website. It comes with various designs, features and form fields to let you build contact form in a less amount of time.
So, let's get started and add a beautiful contact form on WordPress website:
Step 1:

Download Ultimate Form Builder Lite from WordPress.org for free. Then, install it on your WordPress website. If you have any difficulties while installing the plugin, you can refer to its documentation or check out the article: How to install a new plugin in WordPress website?
Step 2:
After you have installed the plugin, activate it. Then, you can see "Forms" on the left menu of your admin dashboard. Click on it.
You will land to "All Forms" page. It contains all the forms you have created to date using Ultimate Form Builder Lite.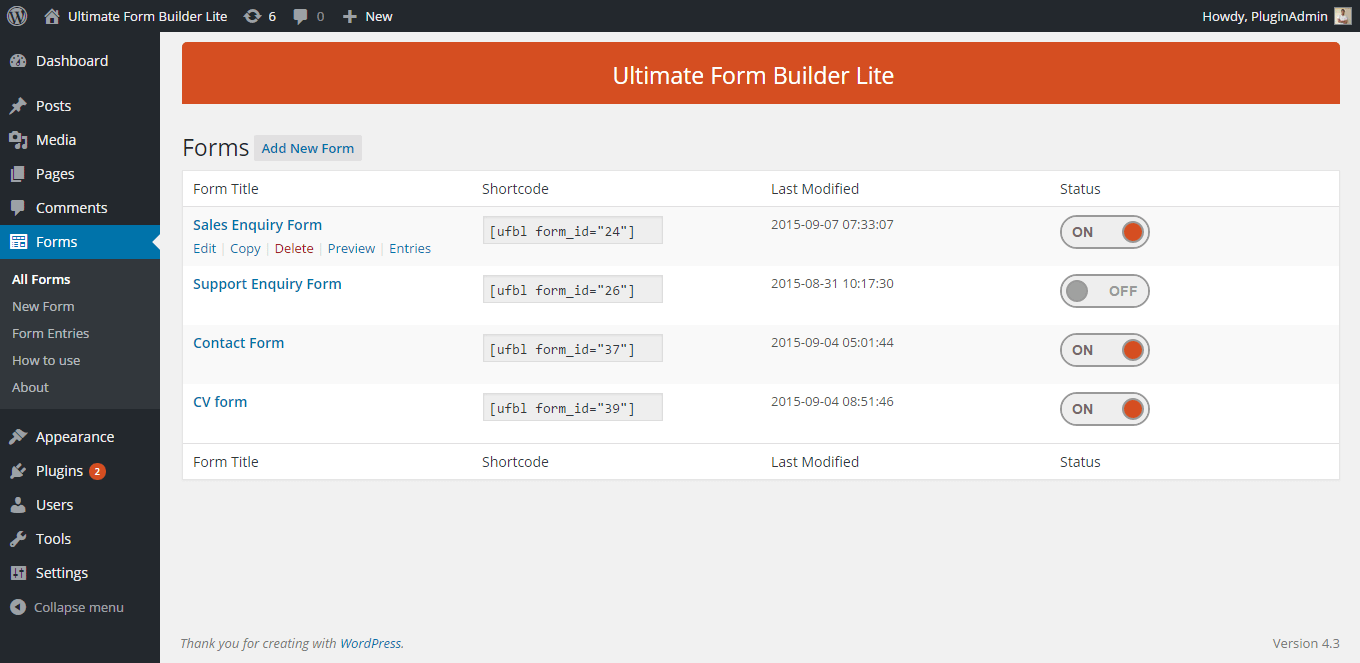 To add existing form, copy the shortcode present on each of the forms and paste it at your desired location to add your form.
To build a new form for your WordPress website, click on "Add New".
Step 3:
You will land to the "New Form" page. It contains different settings to build and customize your forms. The settings include:
Form Builder:
Here, you can add different form elements on your form. The plugin supports 11 different form elements. They are:- Single Line Text Field, Multiple Line Textfield, Email Address, Dropdown Menu, Radio Button, Checkbox, Password, Hidden Field, Number Field, Submit Button and Captcha.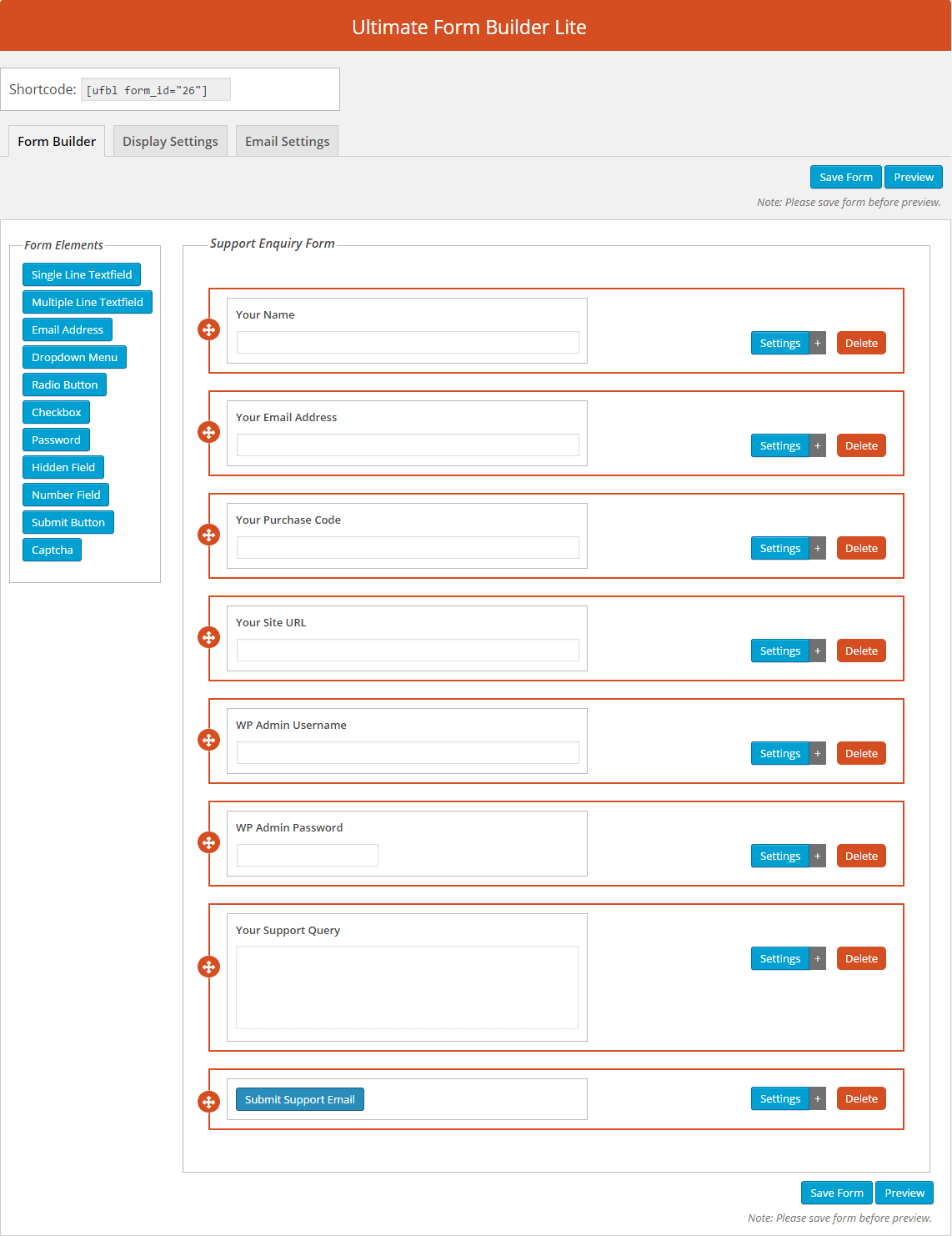 Display Settings:
Here, you can disable the plugin styles of your form if you desire to custom design your form. Also, you can hide the title of your form. You can also add custom messages for form submission and form error. Then, choose any of the 5 pre-designed form templates that come along with the plugin.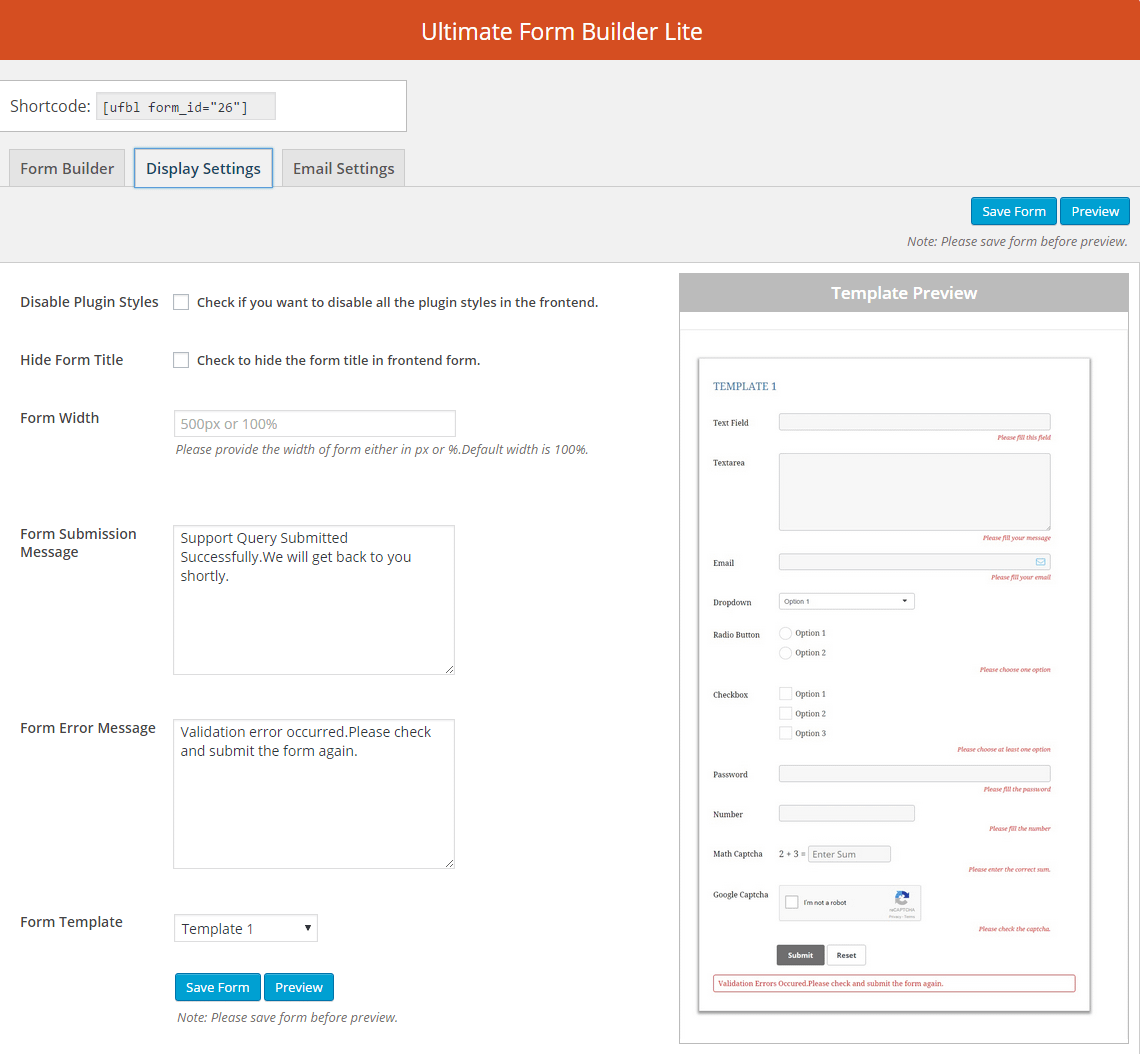 Email Settings:
Here, you can add the email address for the email receiver. Also, you can add custom email address for from email, custom name for from name and email subject.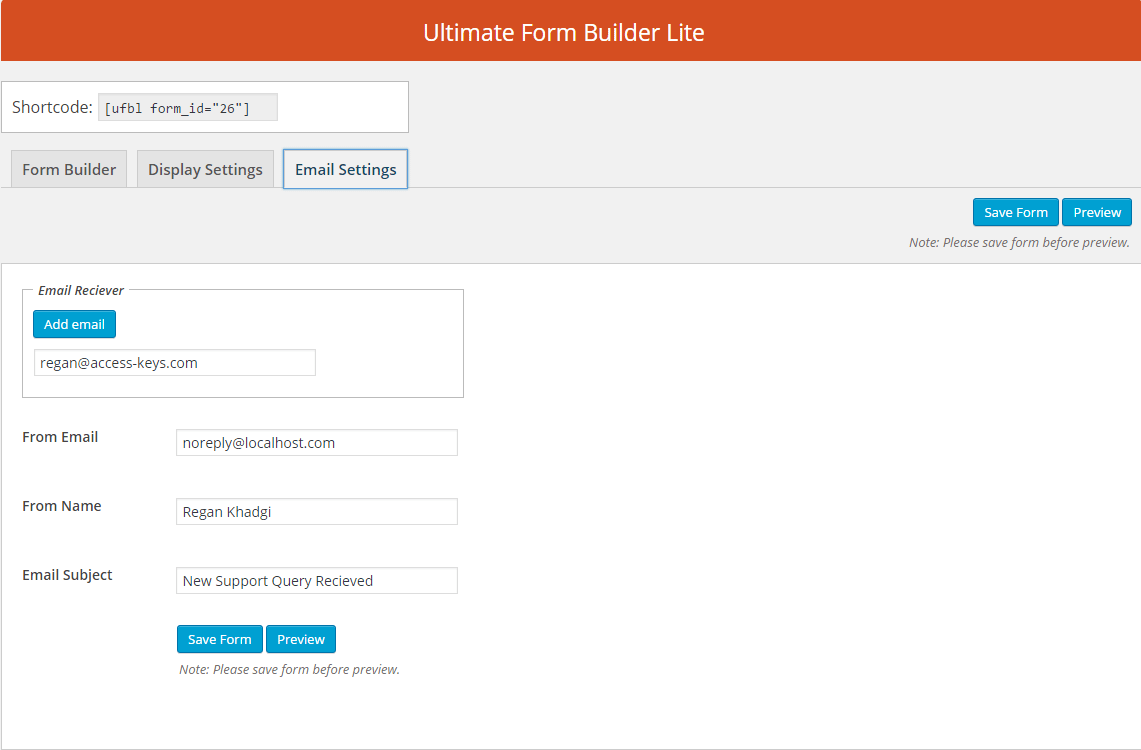 Step 4:
After you are done configuring all the settings, save the form by clicking on "Save Form" button. You can also view the preview of your form by clicking on the "Preview" button.
Then, copy the generated shortcode and paste it anywhere you want to add your form.
Wrapping Up
As you see, creating contact form is not a complicated process, as long as you choose the right plugin. So, if you are using old version of contact form with limited feature or do not have a contact form then, you might need to consider for an upgrade.
You can also check out our collection of: